Insurance Knowledge for Newcomers
Inhouse Online Training Series
Offering fundamental insurance knowledge for newcomers and career changers in all HGS branches worldwide
HDI Global Specialty (HGS) wants to enable newcomers and career changers worldwide to gain a broad understanding of insurance topics.
The focus is on conveying general basic and contextual knowledge of the insurance industry focusing on industrial insurance.
Therefore HGS cooperates with "Versicherungsforen Leipzig" to offer newcomers and career changers the opportunity to participate in this online training.
The training will take place exclusively online.
Please scroll down for further information.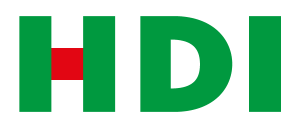 Information about the training
Contents of the online training
The training is split in two parts:
Part I is basic insurance knowledge by "Versicherungsforen Leipzig".
Part II is specialty knowledge by the HGS specialists (HGS trainers).
Both parts are comprised of three blocks in which insurance knowledge is presented interactively and with the extra-benefit to build relationships and foster exchange with international colleagues, both professionally and personally.
Each block of part I contains a small interactive test in which you can check your acquired knowledge.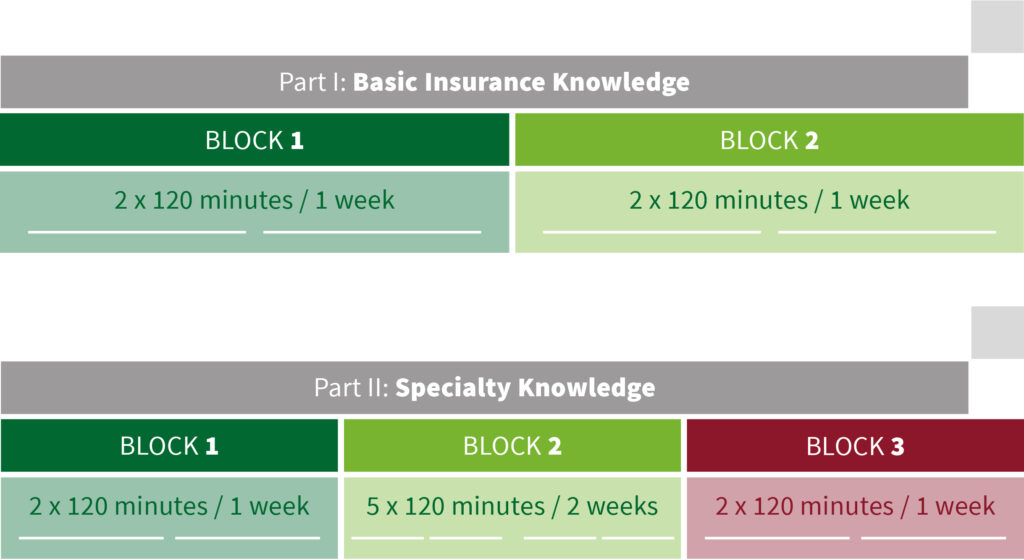 Part I: Basic Insurance Knowledge
Who are the participants in the insurance market (insurers/reinsurers, distributors, service providers, customers / In short: the difference between social and private insurance)
The insurance product and its specifics (definition, characteristics: need for funds, uncertainty, estimation, coverage, risk balancing)
The core of the insurance business (risk balancing in the collective and in time, types of customers and their risks, market saturation, risk perception)
The customer segmentation "personal lines insurance", "SME's/middle market sector)", "commercial lines insurance" and their special features
Sources of income of insurance companies: Risk, investment and cost results
Processes

Core processes: Sales, customer-centric product development, claims management
Sales; especially: Broker business/Single Risk / Delegated authority

Regulatory affairs (with focus on Germany)

Overview of current regulatory requirements/initiatives (EIOPA & Co, Solvency II, IDD, LVRG, MA-Go, outsourcing, EU Data Protection Directive, CSR) ((Note: Compliance takes place in HGS internal appointments due to national regulations / special features))
Overview of the legal framework in Germany (VVG, VAG, …)

What are the current challenges, trends and drivers in the industry?

Consolidation, digitalization, customer behavior, risk cause systems, competitive situation, ecosystems
Trends in industrial insurance

What short and medium-term market development can be expected?
Part II: Specialty Knowledge by the HGS Specialists
Networking within each block of part I
To help you to get to know each other better, each block contains a networking module. Its contents will be:
Welcome round
creating your profile (professional/private mixed)
Your specific homework (e.g. name the 5 most important products of your home market, which trends are particularly important in your country etc.)
Short surveys, presentation of the results
Duration of the online training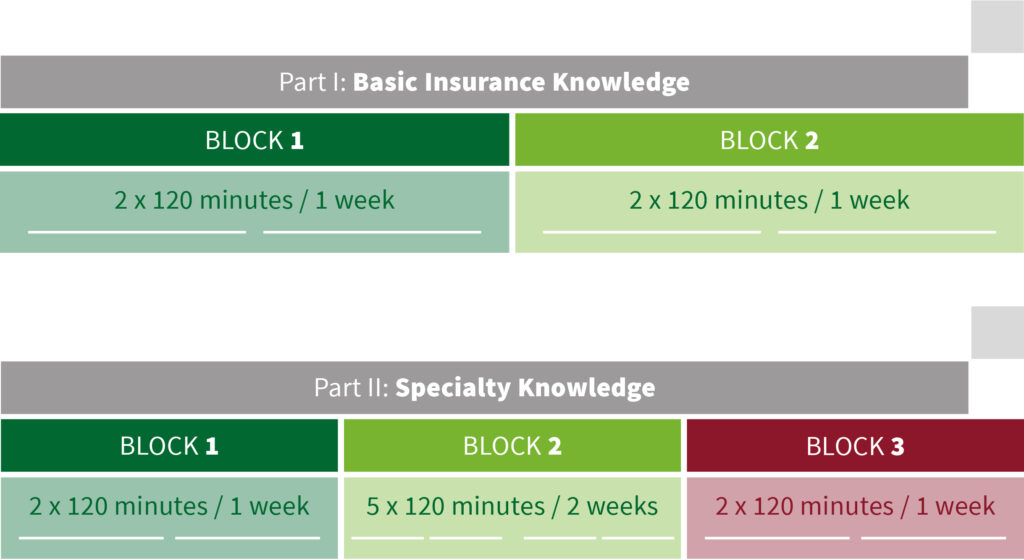 You will be part of a course group that runs through both part I and part II together.
The course is open for all newcomers and career changers at HDI Global Specialty branches worldwide.
If you are unsure whether this applies to you, please speak to the leader you are reporting to or contact People & Culture  in Hannover (contact details below).
In case you are interested to register and you have the approval of your leader, please use the the link to the registration page and the access code provided via email. On the registration page you have to enter the following data:
First name
Last name
E-mail address
Self-chosen password
Access code ("Voucher code")
After successful registration, you will receive a confirmation via e-mail from the system.
In case the number of registrations exceeds the number of available places, your registration will be held on a waiting list.
Each course is held with a minimum of 8 participants. In order to guarantee a reasonable pricing we offer this training at a minimum of 8 participants with a maximum price of EUR 1.187,50. A maximum of 12 persons per course is allowed. With participation of 12 persons the seminar price per participant is EUR 791,67. Please get the costs approved by your leader before registering. Please also note that your application for the course is binding.
All prices are exclusive of the VAT applicable in Germany. The invoice for the participation will be sent to the company or the branch office of the seminar participant. The invoicing party is "Versicherungsforen Leipzig GmbH".
Cancellation policy: This is a binding application. A written cancellation is possible free of charge up to 4 weeks before the start of the seminar. For cancellations within four weeks before the seminar begins or no-show, the entire participation fee is due. It is possible to replace the originally registered participant with another participant from the same HGS branch as well as from another HGS company. In this case the cancelling participant is obliged to nominate a substitute participant.

Course group 1 - 9 (Timezones Canada, Australia & Europe)
The courses for groups 1 to 9 took place from October 2020 until September 2023 with 116 participants from Canada, Sweden, the Netherlands, Belgium, Australia, Italy, UK and Germany.

Schedule for course group 10 (Timezones Australia & Europe)
The course for group 10 will start in February 2024.
Block No.

Block Title

Date

Sydney, Australia

Continental Europe

London, UK

Understanding the insurance landscape and the business model of insurers
+ Networking
+ Knowledge Test

Session 1
20.02.2024

Session 2
22.02.2024

Understanding processes and regulation
+ Networking
+ Knowledge Test

Session 3
27.02.2024

Session 4
29.02.2024
Course group 10- Part I I
Block No.

Block Title

Date

Sydney, Australia

Continental Europe

London, UK

Understanding specifics of a specialty insurer

Understanding specialty underwriting

Understanding Single Risk lines of business

Session 5
tba

Session 6
tba

Session 7
tba

Understanding important core functions
All sessions of part I and II will be conducted via MS Teams.
For questions please contact
Introducing Versicherungsforen Leipzig GmbH
Versicherungsforen Leipzig GmbH is a spin-off from the University of Leipzig. For twenty years now, Versicherungsforen Leipzig has seen itself as a bridge between insurance science and insurance practice with the aim of promoting and sustainably supporting the transfer of specialist knowledge within the insurance industry.
Versicherungsforen Leipzig offer a set of services to the insurance industry that gives individual companies direct access to the latest know-how and methodological competence of science. To solve challenging and novel requirements within the insurance industry, Versicherungsforen combines special knowledge of insurance management, insurance informatics, actuarial science and insurance law. This scientific interdisciplinarity and the high level of practical relevance enable an informative "view beyond the edge of one's own nose" and form the foundation for successful cooperation with the insurance industry, which is particularly demonstrated by Versicherungsforen Leipzig's partner network of around 180 companies from the insurance industry.
Through continuous research and project work, Versicherungsforen has been able to bundle special consulting competencies across all value-added stages – including product design and product management, sales and customer relationship management, contract and inventory management and claims management – of insurance companies. Versicherungsforen combines this knowledge of the value-added stages with a comprehensive range of services in the project phases strategy, conception and technical implementation for processes, organization and process-oriented quality management.
Learn more about us: www.versicherungsforen.net
Organisational contact person at Versicherungsforen Leipzig